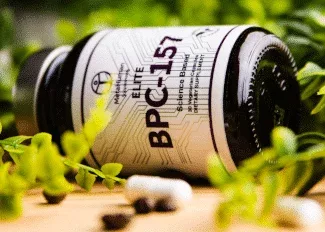 Gamma-aminobutyric acid (GABA) is the major inhibitory neurotransmitter in the central nervous system where it is widely distributed. In adulthood, GABA takes on an inhibitory function in the nervous system and modulates the function of other organs and systems, including the endocrine and immune systems. GABA dysfunction is responsible for a variety of pathologies, both neurological and non-neurological, and includes epilepsy, anxiety, depression, schizophrenia, endocrine and immune disorders. The GABAergic system is also an essential element in the overall architecture of sleep.
ELITE BPC-157 works for the natural homeostasis of GABA receptors and strengthens GABAergic transmission. It can also help with anxiety by enhancing the GABA neurotransmission. When administered orally , BPC-157 affects the brain directly through the gut-brain axis.
In one study, scientists concluded that the use of BPC-157 could also help with the withdrawal and tolerance of GABAergic drugs such as diazepam, making them more effective. Additionally, as we know, significant sleep disturbances can occur after discontinuation of hypnotics. The use of ELITE BPC-157 supports the return to the natural homeostasis of our system, as a result of which sleep regulation is possible much faster.